Ergonomics
How to choose the perfect desk for you; there are more details than necessarily meets the eye. Important considerations can include leg room, the ability to adjust height manually, or with sit-stand technology depending on the person using it.
Another essential factor, which is often forgotten but plays a significant part is cable management. At Meridian, we use our expertise to plan a refurbishment that best suits the company and their space, ensuring no stone is left unturned.
Size, Shape & Style
In terms of size, there is likely to be differences between the way different workers use their desk space. For example the amount of paperwork an accountant goes through compared to a IT support team would vary.  However, the IT team would be more likely to use dual-monitors compared to other employees. These differences would subsequently affect the size of a person's work space.
When it comes to desk shape, be sure to consider the one that fits your workspace, but one that's easily adaptable in case of change; paying particular attention to how much paper each person uses.
When looking at the style: straight desks are efficient, versatile and provide a sit-stand option; whereas curved desks provide extra desk space.
Whichever desk you opt for, research and planning are key. We offer expert advice in helping you choose the shape, size and colour desk for your workspace, letting you concentrate on the more pressing concerns.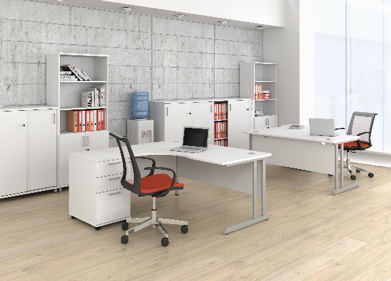 Single vs. Bench
Another thing to consider is whether you want single or benched desks in your office.
Single desks allows full flexibility as the shape of your company changes over time, enabling you to change workstations as you go. Whereas benched desks tend to be the most cost-efficient solution.
Whatever your office configuration, a workspace should promote collaboration and this is an important factor that Meridian considers when setting out an office refurbishment.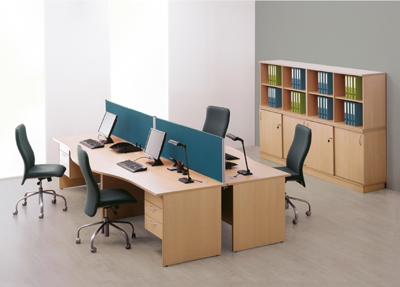 Above all of this, a good desk says a lot about you and your staff. Paying attention to the details speaks volumes about a business and can be the difference in gaining business and staff retention. Fortunately for you, we offer a wide variety of desks in all shapes and sizes, so picking one is easier than ever.