Office workers spend most of the workweek sat in a chair at their desk. Bearing in mind this is roughly around eight hours a day; a comfortable and well-designed workstation is imperative for a healthy, productive workforce. When considering suitable office equipment, ergonomic springs to mind. Lumbar support, seat depth adjustment and free-float tilt mechanisms each ensure adjustments can be made, whilst encouraging movement. A well-equipped workstation boosts employee satisfaction, productivity and performance.
The health benefits of correct posture
Employees are encouraged to adopt a proper sitting posture to prevent future health related issues. Correct posture, whilst sat at a desk, reduces the risk of upper limb problems, as well as back and knee issues. A simple way to improve posture and avoid health risks is to alter sitting positions. In addition, chairs that are adjustable can be used to alter the height, position and tilt to ensure proper back support.
Our ergonomic chairs help to encourage correct posture and optimise a workstation and our range can be found here.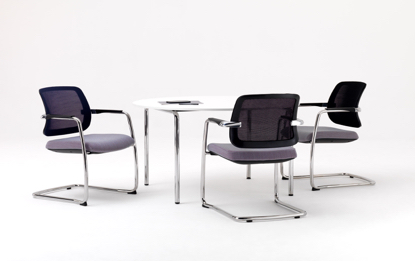 Optimising a workstation; negating physical impacts
The furniture making up a workstation should negate the risk of physical impacts. Both chairs and desks should meet general health and safety standards. Desks should be spatial enough for employees to flexibly arrange their working equipment. Additionally, they should be able to work and change position in a way that best suits them.
Desks should be high enough for arm rests and legs to fit comfortably underneath. If not, adjustable sit-stand desks offer flexible alternatives to standard desks; check out our blog – Should I Be Sitting or Standing The height of a desk should be up to the knees, allowing elbows to be bent at a 90-degree angle.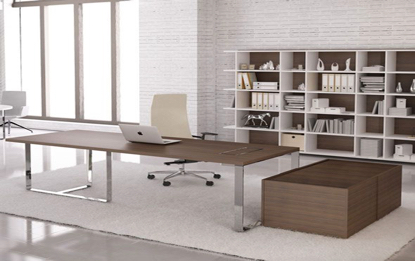 As office workers spend the majority of their time sat at their desk, it's important to furbish a workstation with suitable, quality office furniture. Ergonomic chairs encourage correct posture. Accompanying them with quality desks will improve employee productivity and performance, whilst avoiding physical health impacts.
Frequently overlooked in an office: chairs and desks are imperative to employee wellbeing. So getting the right equipment can often lead to getting the right success!
Contact us today and see how we can optimise your workstation with quality office chairs and desks.